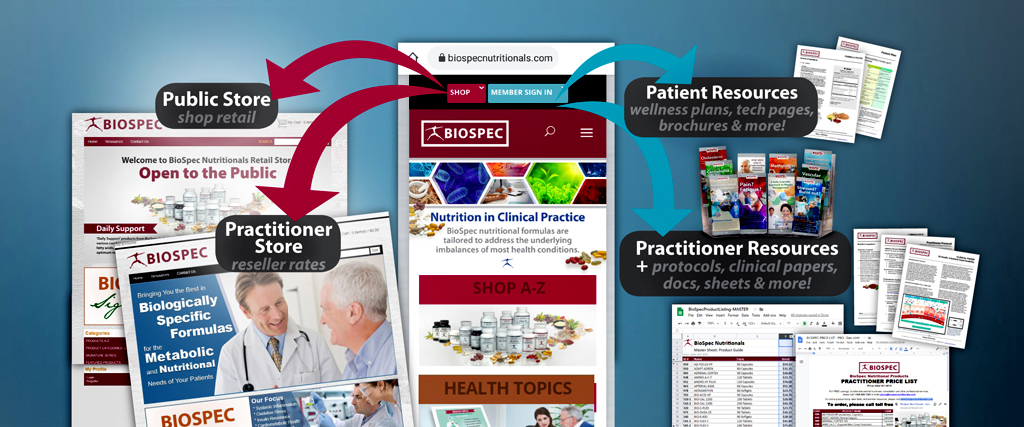 This initial newsletter serves to inform all BioSpec Members of recent developments, and advise those with Legacy Practitioner Accounts (est. before Aug. 2019) about separate credentials needed for new Member Resources.
Announcements: What's New at BioSpec
Since our newly-designed product labels were rolled out in 2017 (silver-Signature Series, burgundy-Daily Support), we have been actively moving forward with other product and organization improvements. Below is a summary of recent activity at BioSpec, and specifically addresses the need for separate credentials to access Practitioner Store Accounts and Member Resources.
Now located in WI
BioSpec has moved to the midwest!
The new address is 501 S. Nathan Lane – Suite 7, Elkhorn, WI
The toll free number is still 1-800-825-7921 for sales and service.
The new fax number is (949) 589-5376.
New Website
The new site has buttons at the top to jump to BioSpec's Public and Practitioner e-stores, which are open for business, as usual. The new site now hosts our blog and newsletter feeds, offers current educational content about common health conditions and nutraceutical options, as well as the science behind BioSpec Nutritional products and protocols. While separate credentials are currently needed to access resources, store account login and online orders remain unchanged.
Public Store – Shop for retail rates, store account/login optional.
Practitioner Store – Login for reseller rates, pro store account/login needed.
New Resources
Member Resources have moved to our new WordPress website. Brochure Downloads, Tech Pages & Papers, Wellness Plans & Protocols, and other resources are added as they become available. Separate sign in/login is currently needed for Member Resources and Store Accounts, until stores are rebuilt to enable advanced, multi-tiered, secured resources and account management.
Please note: Practitioner Members who registered before August 2019 can register at the new site for Resources. Usernames can be identical, and passwords can be reset to be the same too, for ease of use.
Resources – Sign in/Register
Additional Member Services
For prompt sales and service, we encourage members to call 1-800-825-7921 (M-F, 9am-5pm), or email your Sales Representative (Joe or Jason) to request mailed literature, product guidance, and other B2B support. You may also contact our Member Services Representative (Karla) for help with online accounts, graphics for in-clinic promotions and other marketing support for resellers.


[email protected]




[email protected]




[email protected]
Looking Ahead: What's Coming Next from BioSpec
Email List Review
BioSpec monthly emails were established in February 2020. Anyone not yet subscribed, or unsure if they're on the mail list, can subscribe at biospecnutritionals.com/newsletter-signup/.
Preview our MailChimp Newsletter Archive here.
February Newsletter: Immune Function
Product in Focus: Cobotic Immune Support
Learn more Immune Support formulas, conditions and considerations, benefits of ingredients, science behind formulas, links to resources including related off-site content, specials and other offers.
Discount code immune2020 good on specific immune support formulas (Cobotic, Vitamins C, A & D, and Probiotic-15) is good through March 31, 2020. See newsletter or contact us for more details.
2020 Product Guide Announcements
A summary of new & reformulated products, price changes, and added resources will be included with the 2020 Catalog announcement in late March. Printed catalogs are typically mailed by early April.
Member Input Welcome
Every member is a part of our BioSpec Nutritionals community. Our goals are to:
(1) inform members and subscribers of current news and science behind our nutritional formulas,
(2) provide relevant resources to support doctor-patient engagement,
(3) offer specific guidance and tools for actionable initiatives,
(4) continue to offer quality biomedical, professional grade nutraceutical products and related services.
As such, we welcome input from patient and practitioner members. We invite you to submit links to videos, apps, and other recommendations for Member Resources. Pending member participation and viability of sharing key data points, we may may publish a 'Patient & Practitioner Perspectives' segment to demonstrate the on-going process of personalized Wellness Plan development.
Please feel free to contact us with questions, comments, clinical inquiries, recommendations, and content submissions.